ROLL OF HONOUR SOUTH AFRICA 1899 - 1902
Charles Stuart KNOX Captain died at Colombo 26th November 1901.
Born September 1872. Joined the Gloucestershire Regiment May 1892. Captain February 1900. Served at Rietfontein and Farquhar's Farm.
George Harold MATTHEWS Lieutenant died of wounds May 30th 1900
Wounded at Kheis May 28th. Son of T.G. Matthews of Berkeley, Gloucestershire. 2nd Battalion. Joined Regiment March 1898. Lieutenant February 1900. Wounded whilst serving with the Mounted Infantry.
Edward William Middleton NOEL Lieutenant died of enteric May 19th 1900
Died at Bloemfontein. Eldest son of Colonel E. Noel, Royal Engineers. Born 1880. Educated Cheltenham College. Joined the 2nd Battalion January 1900.

Edmund Percival WILFORD Colonel Killed in action 24th October 1899
Killed at Rietfontein. Born May 1846. Joined the 8th Foot in July 1865. Joined the 28th Foot August 1865. Colonel July 1899.

1st BATTALION GLOUCESTER REGIMENT : MEMORIAL AT LADYSMITH CEMETERY
To the Glory of God and in memory of the Officers, NCO's and men of the 1st Batt. Gloucestershire Regiment who were killed or died during the Boer War 1899 - 1900.
Killed at Rietfontein 24th October 1899
Colonel E.P. Wilford
Corp. E. Carr Private B. Offer Private C. Miles
L/Cpl T. Bradley " J. Shelley " C. Penny
Private H. Cratchley " H. Thomas " W. Stone
" W. Cubbins " F. Couzens " W. Whatley
Killed during the Siege of Ladysmith
Corp. H. Oxenham Drummer J. Horner Private H. Core
L/Cpl. E. Robinson Private T. Bayliss " W. Sims
" W. Leighton " W. Nicholls " C. White
Died during the War
Sgt Major B. Gray Private G. Ball Private T. Cox
C. Sgt. D. Dennard A. Bayliss W. Love
" T. Bricknell J. Burnett H. Martin
Sgt. C. Parks C. Bygrave F. Maunders
" J. Banks W. Acott J. Nelmes
Corp. A. Coles C. Bassett F. Offer
L/Cpl. O. Edmunds F. Bearne C. Salcombe
" G. Stainer W. Butler F. Smith
" A. Pigeon G. Garland A. Stevens
Private W. Davis W. Gregory H. Waite
M. Edwards F. Hawkins H. Daykin
F. Farr H. King E. Emery
H. Fowler E. Halliday C. Lusty
W. Fido C. Hooper W. Miles
W. Cabb G. Lister R. Mott
W. Grainger H. Smith W. Tracey
H. Oborne G. Paget E. Squires
Also to the memory of 39 NCO's and men who lie buried near Nicholson's Nek, whose memory is perpetuated by a monument on that battlefield.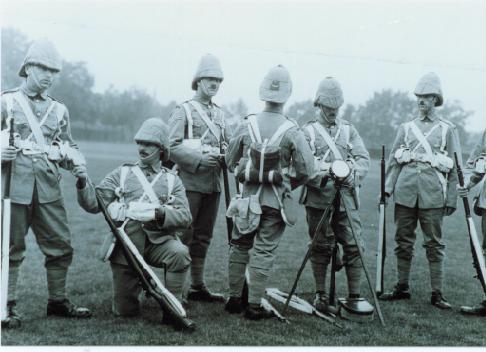 Men of the 1st Battalion Gloucestershire Regiment, in service dress for South Africa, 1899. Note the cloth back badge.
Index ..... Boer War Roll of Honour