THE ROYAL GLOUCESTERSHIRE, BERKSHIRE and WILTSHIRE REGIMENT
23rd July 1991, the British Government announced that as part of the 'Options for Change' defence review, the Gloucestershire Regiment would merge with the Duke of Edinburgh's Royal (Berkshire and Wiltshire Regiment). The amalgamation was postponed to allow the Glosters to celebrate their Tercentenary in 1994. The new Regiment was formed on the 27th of April 1994. It had its roots in six old county Regiments:
28th Regiment - North Gloucestershire - formed in 1694 - 1st Battalion Glosters 1881
61st Regiment - South Gloucestershire - formed in 1756 - 2nd Battalion Glosters 1881
49th Regiment - Hertfordshire.............- formed in 1743 - 1st Battalion Berkshires 1881
66th Regiment - Berkshire..................- formed in 1756 - 2nd Battalion Berkshires 1881
62nd Regiment - Wiltshire..................- formed in 1756 - 1st Battalion Wiltshires 1881
99th Regiment - Lanarkshire......... .....- formed in 1760 - 2nd Battalion Wiltshires 1881
The Duke of Edinburgh's Royal Regiment (Berkshire and Wiltshire) was formed in 1959
---
BOSNIA 1994 - 95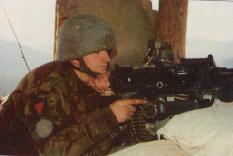 The new Regiment went to Bosnia in September 1994 as part of the United Nations Augmentation Force. Based in Gorazde, Bugonjo, Sarajevo, Kiseljak and Split in Croatia. Four members of the Regiment died during the Tour of duty:
Private Ben Hinton
Private Martin Dowdell
Private Chris Turner
Private Phil Armstrong
The Back Badge was worn on the blue U.N. beret. The tour ended in March 1995.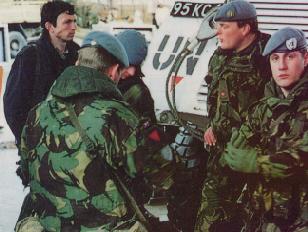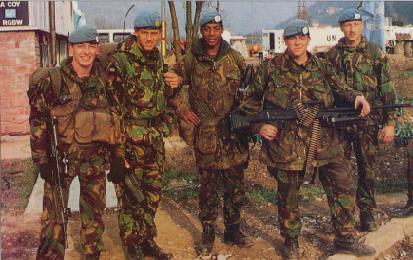 ---
CYPRUS 1995 - 97
The Battalion then moved to Cyprus from May 1995 to May 1997 on an internal security role, protecting British assets (Salamanca Barracks, Troodos Camp, Mount Olympia and RAF Akrotiri.) During the tour detached companies trained in Egypt and Kuwait. In 1996 'A' Company did a 4 month tour in the Falkland Islands, based in Port Stanley.
24 AIR MOBILE BRIGADE
The Battalion then became a part of 24 Air Mobile Brigade, a part of NATO's Europe Rapid Reaction Corps. The Regiment was based at Colchester in England.
NORTHERN IRELAND
March 1998 the Battalion moved to South Armagh. On the morning of 22nd June 1998, near Crossmaglen, Corporal Gary Fenton was killed when struck by an oil tanker suspected of smuggling, he was 29.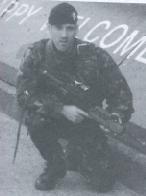 In the London Gazette suplement of May 6th 1999 the following award was published :
Queen's Commendation for Bravery : 24738990 Corporal Gary Llewellyn Fenton (posthumous), The Royal Gloucestershire, Berkshire and Wiltshire Regiment.
---