THE GLORIOUS GLOSTERS
LIEUTENANT COLONELS - 1st Battalion
1881 - F. Brodigan

1885 - A.L. Emerson

1887 - G.C.S. Ducat

1891 - G. Conner

1895 - E.P. Wilford

1899 - S. Humphrey

1903 - H. Capel-Cure, DSO

1907 - W.R.P. Wallace

1911 - A.C. Lovett

1915 - G.F. Gardiner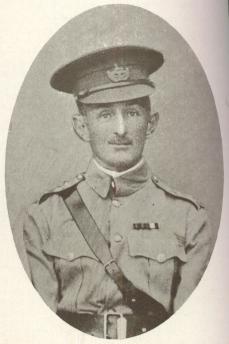 1915 - A.W. Pagan, DSO

1918 - J.L.F. Tweedie, DSO - Born 19th Nov. 1872, son of a senior Indian Army Officer, he joined the Indian Police but transfered to the Army in 1900, when he joined the Gloucesters. Served in Boer War (QSA 2 clasps) with the 28th and 61st Regiments. After the war he served with the 28th to 1909 when he was seconded to the Egyptian Army. Served in the Sudan 1914 (awarded Egyptian Order of the Nile) and returned to the 61st Regt. in 1915. In 1916 (Salonika) he was appointed to command the 12th Lancashire Fusiliers and was awarded the DSO and the Serbian Order of the White Eagle. Returned to the 28th in March 1918 and took command of the Regiment, inlcuding the battle of Festubert (bar to DSO). Served with the 28th in Ireland and Germany after the war. Retired in Germany in 1922. He died in London on 7th March 1963 in his 91st year.

1919 - F.C. Nisbet, DSO - Born 1870. Joined 28th Regt. from Sandhurst in 1890. Served South Africa, pow outside Ladysmith. Commanded 61st when Colonel Tulloh was killed. From 1916-1918 commanded 8th Bn DCLI in Macedonia. Awarded DSO and Serbian Star of Karageorge. In 1919 commanded the 28th Regt. in Ireland. Died 8th May 1953, in London.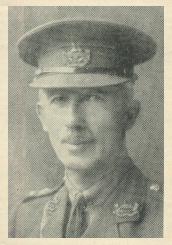 1921 - J.R. Wethered, CMG, DSO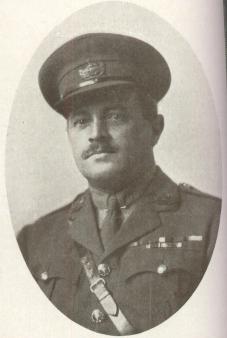 1925 - J. Fane, DSO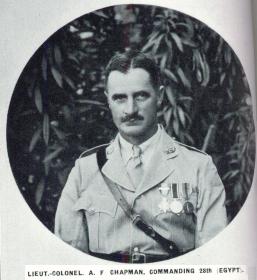 1929 - A.F. Chapman - Gazetted to Northumberland Fusiliers, Jan. 1902. Transferred to the 61st Regt. Lieut. 1905. Capt. 1911. Adjutant 1911-1914. 1929 Lieut-Col. 28th Regt. Retired 1st May 1933.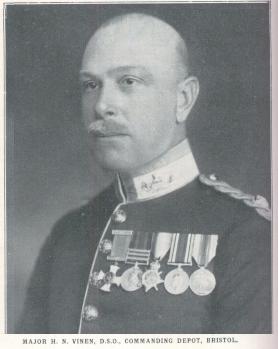 1933 - H.N. Vinen, DSO - Commissioned July 1903, after service with the Militia. Served with 61st Regt. during the Boer War. Captain 1914. Major 1919. 1911 to Nov. 1915 served with the West African Frontier Force. Lieut-Col. commanding 28th Regt. May 1933. Retired 31st Jan. 1935.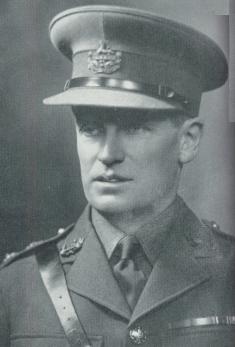 1935 - J.R. Guild, DSO - Born May 1888. Commissioned into the 2nd Bn Glosters from the Tower Hamlets Militia 1909. Later same year posted to 1st Bn in India. Lieut. 1911. Capt. 1914, DSO, 2 MID's. Major 1929. CO 5th (Kenya) King's African Rifles after the War. Lieut-Colonel 1935. Died at Kirkton, Rosburghshire, 27 October 1969.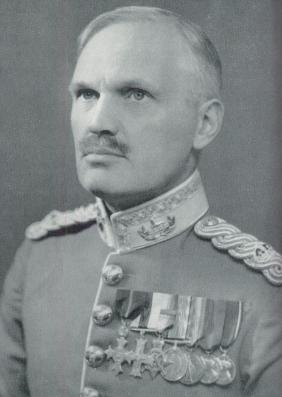 1936 - R.M. Grazebrook, OBE, MC - Born July 1893. Awarded GV Coronation medal as the best cadet at Shrewsbury School OTC, attended the Coronation Parade. Commissioned 1913 1st Bn. Severely wounded in France 1914. Joined 2nd Bn 1915, won MC, severely wounded again. Instructor at Officers School. Rejoined 1st Bn in Ireland 1919. OBE. As a patrol officer he was so effective that he was placed on the IRA "black list" as a target. Posted to 2nd Bn in India. CO Depot 1935. CO 1st Bn in India 1937. Returned to UK 1940. Raised and commanded 15th Bn Royal Fusiliers at Dover. Local Defence Advisor to RAF Stations 1941-44. Retired 1944 due to increasing deafness. Hon. Col. 5th Bn 1951-56. Died at Cheltenham, 29 Jan. 1965 aged 71. Buried at Swindon village church, Cheltenham.

1939 - George Mirehouse - Commissioned 2nd Bn from the Jersey Militia in November 1914. To France 1915. Adjutant 1916-1918. Staff Captain in India 1920-23, rejoined 2nd Bn. Staff College 1928. Staff in China 1931-34. GSOII 7th Armoured Division 1935-38. CO 1st Bn in Rangoon, Dec. 1939. June 1941 went to the Staff. Retired 1947. Settled in Cornwall. Died 1st December 1974, aged 80.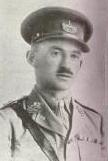 1941 - Charles E.K. Bagot, MC - Born 1895. Commissioned Connaught Rangers Oct. 1915, served in France to 1918 (MC, MID). Transferred to 2nd Bn Glosters 1922. Adjutant 1926-29. CO 1st Bn June 1941 in Rangoon. Commanded 28th during Burma retreat (wounded). Returned UK (medical board). Retired 1947. Died 17th September 1976 at Painswick.

1942 - S.M.C. Theyre

1942 - F.W. Sharpe - Joined the 61st from Sandhurst in August 1918 and served with them until 1930, when he was appointed Adjutant of the 6th TA Battalion at Bristol. Posted to the 28th and in Oct. 1938 appointed adjutant of the Rangoon Battalion, Burma Auxiliary Force. Employed on the staff in Burma during the war and commanded the 28th for a month in 1942 while Col. Bagot was in hospital. Also commanded the Battalion for another 5 months from August 1942. In May 1945 promoted to Lieut-Colonel and commanded the 28th at Deolali. Brought the reduced cadre home to Gloucester in June 1947. Commanded PTC at Reservoir Camp, Gloucester until May 1948, when he was sent to the BAOR in Hamburg on the Inspectorate of Army Equipment. He died in September 1949 and was buried in the British Cemetery at Limmer, Hanover.

1943 - R.G.R. Chilton

1943 - H.S.P. Hopkinson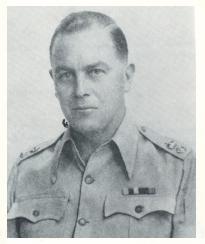 1944 - A.E. Wilkinson, MC

1945 - A.H. Knight, MBE

1946 - F.W. Sharpe. See above.
---