Military Cross
awarded to 50012 Subedar Agu Di
2nd Burma Rifles
and the B.G.M. that never was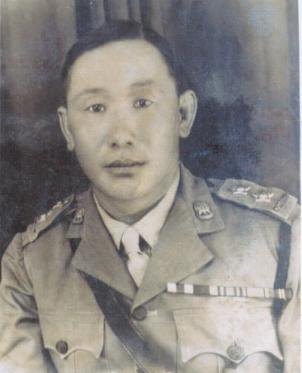 Agu Di, M.C.
Note absence of 'B.G.M.' ribbon




Lieutenant-Colonel Agu Di's medals as he wore them. The first sign that something is wrong: a GV B.G.M.?




Reverse of the medals. The B.G.M. is clearly an India General Service Medal with clasp removed.
All of the medals are named.


The Military Cross:
50012 SUB AGUDI M.C.
2.B.R.
1945
World War Two stars and medals
B.C. 3747 LT. COL. AGUDI MC
2 E.K. B.N.
IGS08
285 - AGUDI
(renamed in crude engraved capitals)




Autobiograhpy of Lieutenant Colonel Agu Di, M.C., B.G.M.

Agu Di was born from father Salang Dansa Hpung (black smith) and mother Chyang Zawn in Hkawng Lang Hpu Seng, in Northern part of Kachin State.

Date of joining military 30th May 1925. 10/20 Training Battalion the Burma Rifles
After training for one year No. 285 Rect. Agu Di was transferred to 1/20th Burma Rifles on 26th June 1926.

I was promoted and had to train the new recruits at 10/20 Training starting 1st January 1927.

I was appointed to 1/20 Burma Rifles 1929 and stayed there for four years. I returned to Burma 1933.
I was an Instructor from 1935 to 1937.

I did Weapon Training Course, Field Work Course, Burma Army Education English Course, attended Defence Service Academy in Maymyo and the C.O. Course in Kalaw.

During war with Japan
1. Fighting at Myawaddy on Burma-Thailand border 12 January 1942 in early morning 4 a.m.
2. Fighting at Kawkraik myo 15 January 1942
3. Fighting at Kyaik To 21 February 1942
4. Fighting on 22-23 February 1942. The fighting went on until explosion of the Satang Bridge took place. We had to swim across the Sitting river and escaped.
5. Escaped from bombing by Japanese on Mandalay 3 April 1942.

Accompanied with 4th Battalion Burma Rifles on return back to India. Started from Indaw and through Kurki, India Naga and arrived Imphall. There the 2nd Burma Rifles stopped and then set off to India.

Certificate for distinguished service from C-in-C. India to Jemadar Agu Di, 4th Burma Rifles

Dates of ranks

Unpaid Lance Naik - 1.3.27
Paid Lance Naik - 1.7.30
Naik - 1.8.30
Havildar - 1.4.37
Jemadar - 1.7.40
Subedar - 30.4.43

Commissioned ranks

Lieutenant - 15.12.45
Captain - 1.4.47
Major - 1.9.47
Lieutenant-Colonel - 29.7.49

Assistant-Deputy Inspector, General Northern Range, Union Military Police of Northern Burma.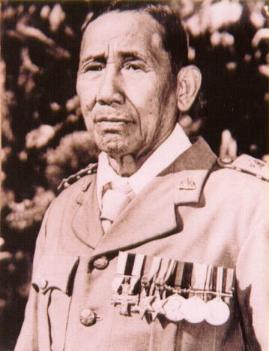 Two photographs of Lieutenant-Colonel Agu Di, M.C. wearing his medals



Lieutenant-Colonel Agu Di, M.C. retired 21st October 1953 and died in Burma 21st September 1996