---
THE GLORIOUS GLOSTERS
---
The 61st was reformed at Ross in Herefordshire from the cadre of the old battalion then brought upto strength and went to Crediton for training, commanded by Lieutenant-Colonel P.P. King. In November 1941 they moved to Lincolnshire and then in December joined the 47th (London) Division at Winchester.
The unlucky men captured in France were sent to various camps in Germany. Three of them successfully escaped back to England, all men of the 61st. Sergeant R.D. Collins, Private E.W. Goldstein and Private V.P. Harding, all were awarded the Military Medal.
Sergeant Collins made eleven escape attempts, tunnelling under wire, climbing down walls on ropes made of blankets and slipping away from work parties. He was beaten by the Gestapo, sent to a punishment camp and finally sent to a camp in Rumania. Deserving his luck, he arrived to find that Rumania had become and ally and was released.
The 61st left Winchester in July 1941 and moved to the Isle of Wight. In October Lieutenant-Colonel D.W. Biddle took over command. In February 1944 they moved to Clacton and then to Middlesborough. They were issued new equipment and companies sent to Scotland to practice combined operations at Inverary.
The 61st were now part of 56th Independent Infantry Brigade, with the 2nd South Wales Borderers and 2nd Essex. The Brigade badge was a sphinx.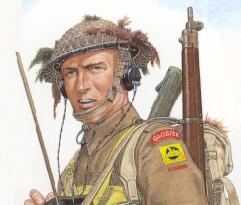 A private of the 61st - June 1944
The 61st moved to a 'sealed' camp at Brockenhurst to prepare for the invasion of France. On June 3rd they were moved to Lymington and boarded landing-craft for the trip to Southampton. Due to bad weather the operation was postponed for 2 days. Finally at 1930 on the 5th June the 3 Landing Craft carrying the 61st moved out of Southampton harbour and headed for Normandy.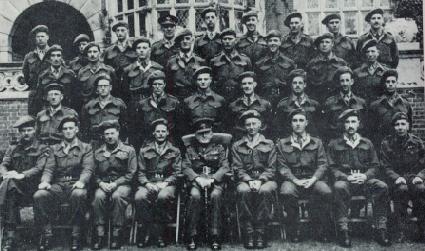 Officers of the 61st - June 1944
Back Row (left to right) - Lt. S. Farmer. 2/Lt. K. Hughes. Lt. K. Byrne. Lt. J. Forse. Lt. J. Evans . Lt. E. Thacker. Lt. Shaw. Lt. D. McGonnell (RAMC). Lt. D. Bicknell.
Third Row (l to r) - Lt. R. Bently. Lt. I. Wakefield. Lt. J. Jones. Lt. D. Grant. Lt. P. Burton. Lt. R. Nordbruck. Lt. D. Paine. Lt. W. Adlam, MM.
Second Row - Capt. A. Chalmers. Capt. A. Soames (Support Company). Capt. A. Rogers. Capt. P. Moore. Capt. R. Nash (adjutant). Capt. R. Graham-Smith. Capt. J. Higgs. Capt. R. French.
Front Row - Major F. Goode (D Company). Major J. Lance (A Company). Major R. Brassington, MC. Lieut-Colonel D. Biddle. Brigadier General A. Pagan, DSO. Major J. Hopper (2nd in command). Major S. Pether (C Company). Major B. Stephens (B Company). Capt. E. Cottingham, MC.
bold = killed.
---