---
THE GLORIOUS GLOSTERS
---
A short pictorial history of the Colours of the Gloucestershire Regiments
---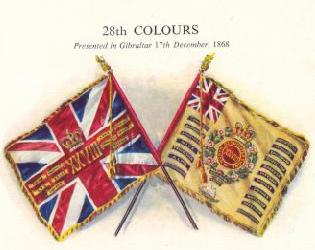 ..................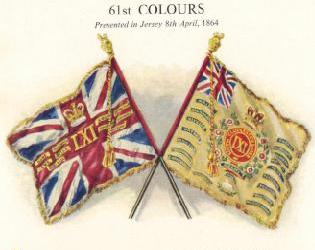 ---
THE COLOURS
The Colours of a British Regiment represent the spirit, traditions and continuity of that Regiment. British military history is full of tales of men laying down their lives to protect or save the Colours in battle. They were never repaired, bullet holes and battle damage was never repaired, borne as a mark of distinction. When new Colours were presented to a Regiment the old ones were 'laid up' often in a Regimental chapel or church.
The two Colours are: the Queen's Colour (The Union Flag bearing the Battalion number and selected Battle Honours) and the Regimental Colour (a unique central device - in the Glosters' case a sphinx to commemorate their service in the Egyptian campaign of 1801, and more battle honours).
The Colours below were presented in 1952, the Regimental Colour bears a blue silk streamer with the words "Solma-Ri", this is the Unit emblem of the United States Presidential Citation, a unique award to a British Regiment. (awarded for the battle of the Imjin River, Korea in 1951).
The Battle Honours of the Gloucestershire Regiment (1694 - 1994). Those in red were entitled to be borne on the Regimental Colours. The Regiment had more battle honours than any other County Regiment :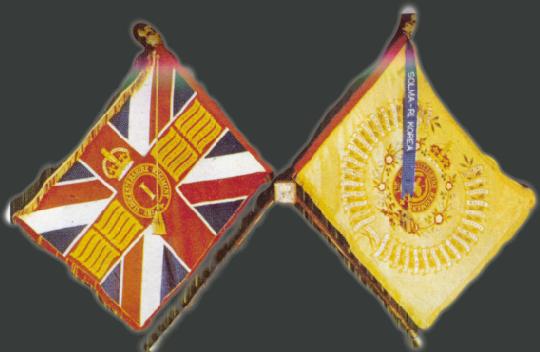 Egypt. Ramillies. Louisberg. Guadaloupe 1759. Quebec 1759. Martinique 1762. Havannah. St Lucia 1778. Maida. Corunna. Talavera. Busaco. Barrosa. Albuhera. Salamanca. Vittoria. Pyrenees. Nivelle. Nive. Orthes. Toulouse. Peninsula. Waterloo. Chillianwallah. Goojerat. Punjaub. Alma. Inkerman. Sevastopol. Delhi 1857. Defence of Ladysmith. Relief of Kimberley. Paardeberg. South Africa 1899-1902. Mons. Retreat from Mons. Marne 1914. Aisne 1914. '18. Ypres 1914. '15. '17. Langemarck 1914. '17. Gheluvelt. Nonne Bosschen. Givenchy 1914. Gravenstafel. St Julien. Frezenberg. Bellewaarde. Aubers. Loos. Somme 1916. '18. Albert 1916. '18. Bazentin. Delville Wood. Poziers. Guillemont. Flers-Courcelette. Morval. Ancre Heights. Ancre 1916. Arras 1917. '18. Vimy 1917. Scarpe 1917. Messines 1917. '18. Pilckem. Menin Road. Polygon Wood. Broodseinde. Poelcappelle. Passchendaele. Cambrai 1917. '18. St Quentin. Bapaume 1918. Rosieres. Avre. Lys. Estaires. Hazebrouck. Bailleul. Kemmel. Bethune. Drocourt Queant. Hindenburg Line. Epehy. Canal du Nord. St Quentin Canal. Beaurevoir. Selle. Valenciennes. Sambre. France and Flanders 1914-18. Piave. Vittorio Veneto. Italy 1917-18. Struma. Doiran 1917. Macedonia 1915-18. Suvla. Sari Bair. Scimitar Hill. Galipoli 1915-16. Egypt 1916. Tigris 1916. Kut al Amara 1917. Baghdad. Mesopotamia 1916-18. Persia 1918. Defence of Escaut. St Omer-La-Bassee. Wormhoudt. Cassel. Villers Bocage. Mont Pincon. Falaise. Risle Crossing. Le Havre. Zeten. North-West Europe 1940, '44, '45. Taukyan. Paungde. Monywa 1942. North Arakan. Mayu Tunnels. Pinwe. Shweli. Myitson. Burma 1942, '44, '45. Hill 327. Imjin. Korea 1950-51.
---
The Regimental Colour of the 61st Regiment
(carried from 1816 - 1828 and preserved in the Glosters Museum)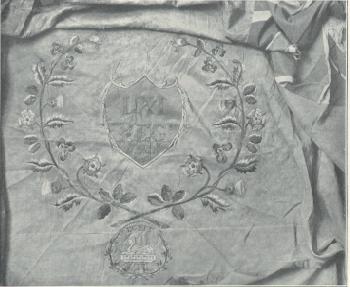 -------------------------------------------------
COLOURS & DRUMS OF THE 1st BATTALION (Victorian)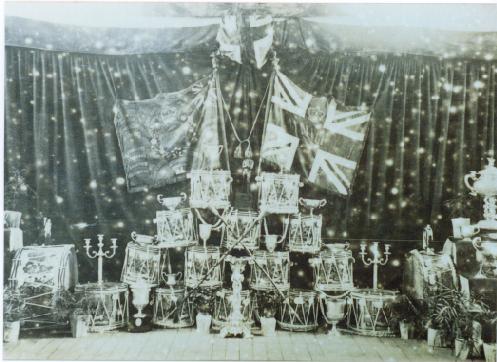 ----------------------------------------------
COLOURS & DRUMS OF THE 2nd BATTALION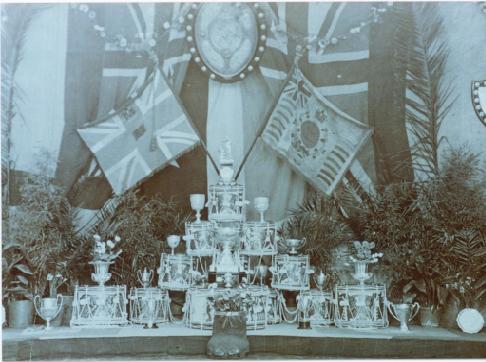 -----------------------------------------------
COLOUR PARTY 1st BATTALION 1920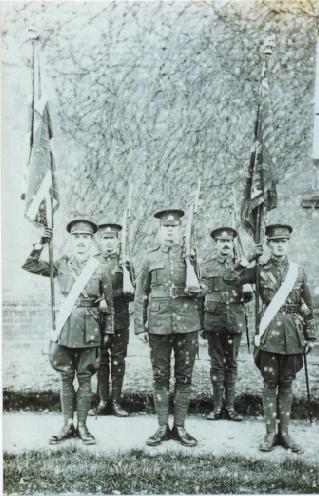 -----------------------------------------------
1st BATTALION 1914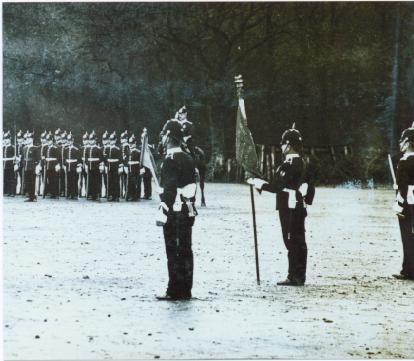 ----------------------------------------------
1st BATTALION COLOURS 1952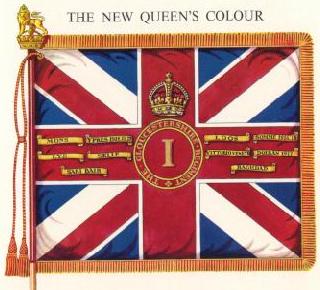 ......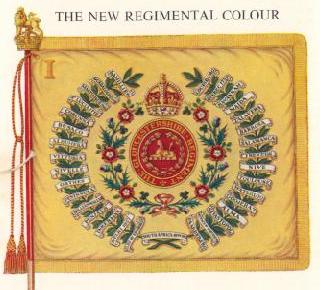 ---
The Colours of the Gloucestershire, Berkshire, Wiltshire Regiment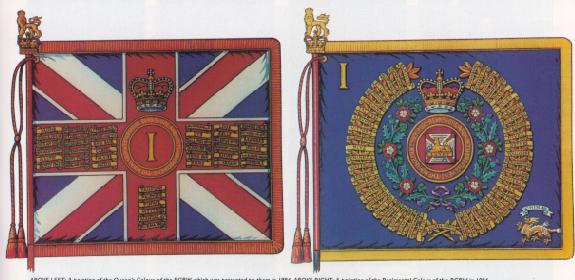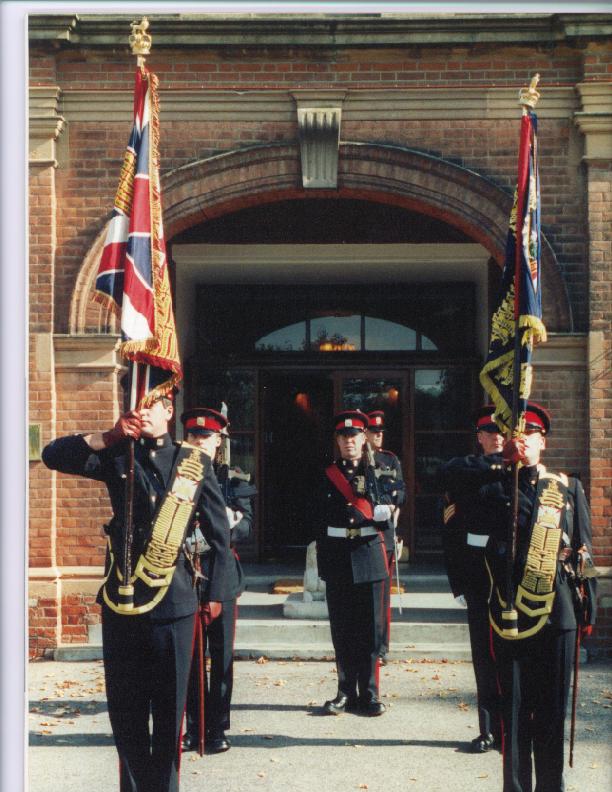 ---