Alexander Hugh Ormonde Butler 1920-1944


| | |
| --- | --- |
| | |
| Wearing the Winter War Medal ribbon | Butler (laying down) at Korpilahti, summer 1941 |
Born 29 September 1920 at Coimbatore, India.
Son of Lieutenant-Colonel Alexander Hazelwood Butler (44th Merwara Infantry) and his wife Sakunthala Narasiah (Married 12 November 1919 at Holy Trinity Church, Yercaud).
The family lived in Yercaud (Butler's residence) but their son was born at Coimbatore (Sakunthala's hometown).
Lieut-Col. Butler retired from the Army 1 April 1921. (Commissioned 1891. Lt. 5th Madras Infantry 1892. Capt. 1901. To the 86th Carnatic Infantry 1904. Major 43rd Erinpura Regt 1905. 2nd-in-Command 44th Merwara Infantry 1915. Lieutenant-Colonel 1917. Served in Mesopotamia 1914/15 star trio.)
The family left India 29 June 1927 and resided in Kensington, London. Lt-Col. Butler died there 20 Sept. 1933. Mrs 'Stella' Butler moved to 111B Campden Hill Road, London.
Educated at Wellington College 1934-38. Described as a 'competent athlete' and appointed a Dormitory Prefect. On leaving College he expressed a desire to go to R.A.F. Cranwell and become a pilot.
Applied to join the Royal Air Force but turned down for not being 'of pure European descent'. Took a job in the City.
Nov. 1939 Soviet Russia invaded Finland. The League of Nations authorises members to give assistance to Finland.
8 February 1940 the British Government issued a Warrant under the 'Foreign Enlistment Act 1870' to allow the Finnish Government to enlist British Citizens into the Finnish Army.
Hugh applied to join the British Volunteer Company, Osasto Sisu to go to Finland. After attending an interview and medical examination he became Volunteer No. 973 and was the youngest volunteer accepted. Date of enlistment 8 March 1940. He took an oath to the Finnish Government and signed the Agreement of Service.
Issued a British Army uniform, forage cap, boots and the volunteers badge (Tudor/Finnish Rose with the letters IN for 'International').
9 March 1940 left London with a draft (145 men) under Captain D.H. Blew-Jones.
Issued a visa for Sweden valid 10 to 16 March 1940. Left on the ss Meteor from Leith, Scotland 10 March and travelled to Sweden via Bergen and Olso.
13 March 1940 armistice agreed between Finland and Russia.
18 March 1940 crossed the Finnish border at Tornio. Left for Lapua by train 19 March and arrived later that day. Stationed in the 'Worker's House'. Above the House flew a Finnish flag with a small Union Jack stitched into the upper corner.
25 March volunteers started ski training under a Polish volunteer sergeant.
26 March rifle drill started. Later a Suomi machine-pistol and some captured Russian rifles and machine-guns were issued for practice.
27 March the volunteers paraded before Field-Marshal Mannerheim. He inspected the company and gave an address in English. The Company then marched past the Field-Marshall. When the last platoon (No. 4) marched past, the platoon commander gave the order "Royal Air Force: eyes right!" These were the volunteer airmen.
16 April moved by train to Jyväskylä, arrived 17th, and then via Pieksämäki and Lappeenranta to Savonlinna, arriving about midnight.
The local children nicknamed Butler "Intian Prinssi" (The Indian Prince).
31 May 1940 Volunteer Company officially disbanded. 19 June moved to Jyväskylä and on 7 September to Korpilahti.
18 October 1940 Butler left with 5 other members for the British Legation, Helsinki.
1 February the Volunteers given the Winter War Medal and certificate. Butler's medal was sent to the Legation for him to collect.
28 March 1941 living at Luotsikatu, Helsinki. (ironically Luotsikatu means 'Pilot Street')
18 June 1941 returned to Korpilahti.
20 June 1941 went to Iloniemi with the 'sawmills' party. Making wooden sections for army huts.
30 June 1941 moved by train to Malung in Sweden.
6 Dec. 1941 Britain declared war on Finland and permission to wear Finnish medals and orders was withdrawn.
22 April 1942 Butler took off from Bromma airport, Stockholm on the diplomatic plane for Leuchards in Fife, Scotland.
Joined the Royal Air Force.
Flight training. Where?
Posted as Sergeant to 137 Squadron
Promoted to Pilot Officer. Promotion in the London Gazette 7 November 1944
Sergeants to be Pilot Officers:
1806512 Alexander Hugh Ormonde Butler (185370) 13th August 1944
I wonder if he knew?
20 September 1944 killed when his Typhoon exploded during a mission over the Arnhem area:
Squadron Diary: "Sgt. Butler (INDIA) did not return to base, his a/c being seen to burst into flames and crash on the way out." In the appendix was a note: "We lost a good pilot in Sgt. Butler. His a/c blew up in mid-air. We shall miss Hugh Butler."
He was buried at Leopoldsburg War Cemetery, Limburg, Belgium. His gravestone bears the inscription:
PILOT OFFICER
A.H.O. BUTLER
PILOT
ROYAL AIR FORCE
20TH SEPTEMBER 1944 AGE 23
ONLY CHILD OF MRS S BUTLER AND LATE LT COL A.H. BUTLER
OF HAZELWOOD COIMBATORE S INDIA
THY WILL BE DONE
His medals were sent to his mother. She had also served, as an A.R.P. Warden and she received the Defence Medal. She lived at the same address until her death on 7 July 1960.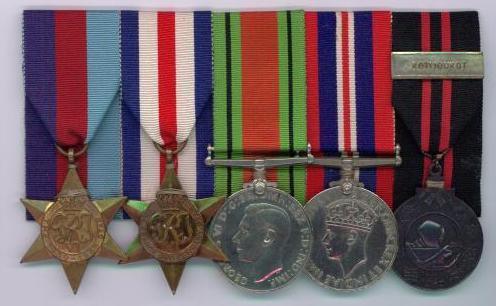 Butler's Medals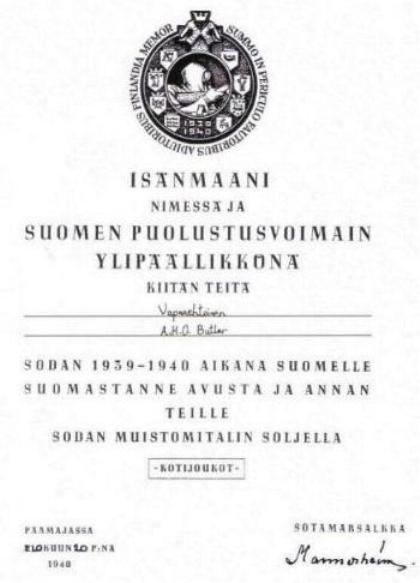 Copy of the award certificate for the Winter War Medal