THE GLORIOUS GLOSTERS
Tercentenary and Amalgamation
In 1994 the Regiment celebrated 300 years of service to the Crown. Unfortunately this also marked the end of the Regiment, which was to be amalgamated with the Duke of Edinburgh's Royal Regiment (Berkshire and Wiltshire).
"The amalgamation of the Regiment was an act of vandalism proposed by the Army Board and executed by the Government. I have little doubt that it will be regretted in the future."
Colonel of the Glosters, Major General R.D. Grist, O.B.E.
The Regiment had a medal struck to commemorate the terecentenary. Each medal is numbered and a roll was made. The medal bears a clasp with the dates 1694 - 1994 and THE GLOUCESTERSHIRE REGIMENT TERCENTENARY. The reverse is the Back Badge (of course!)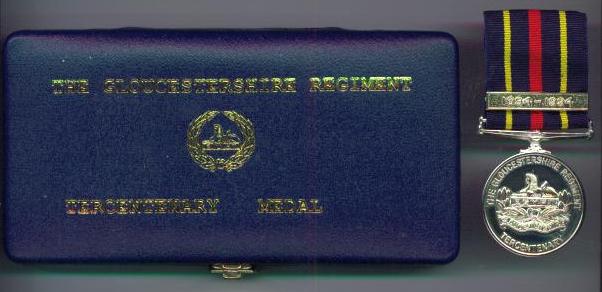 The Service of Thanksgiving and final parade of the Regiment took place on Saturday 26th March 1994 in the city of Gloucester. After a Service at Gloucester Cathedral, the Regiment marched through the city to the Docks. There the Colours were trooped for the last time and the Regiment marched off parade and into history. May the ghosts of the Glosters who served, died and defeated every enemy of this country that the politicians sent them against, forever haunt the pen-pushers who caused this to happen.
---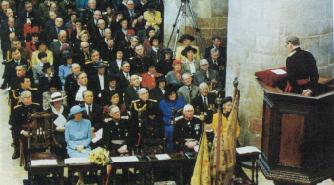 The Service at Gloucester Cathedral

The Colours on parade at Gloucester Docks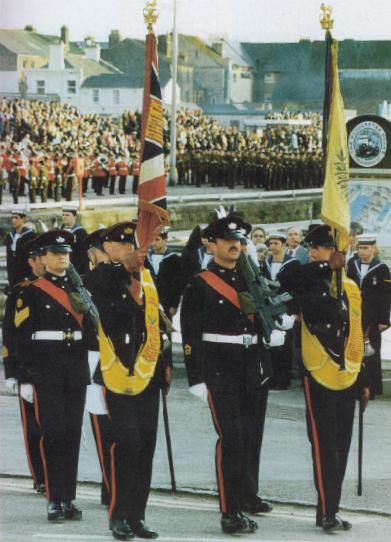 The Colours are marched off parade for the last time
---