Northern Ireland 1972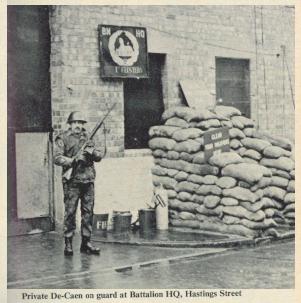 The 1st Glosters relieved the 3rd Bn The Queen's Regt. in early December 1971. The Glosters operations area in Belfast included the Clonard, a hard militant IRA stronghold. Bn HQ was in Hastings Street.
"A" Company
Patrolled around the Divis Flats area. Also provided C/S 19 (the OC's escort and vehicle). This consisted of CSM, Cpl. Evans, L/Cpl. Stalker (driver), Ptes Copeland, Wardle, and Jessup. The Signal Section was under Cpl. Outen, assisted by L/Cpl. Jones, Ptes Bale and Gooch.
5th January 1972 24182918 Private Keith L. Bryan - While on patrol in Ardmoulin Street in the lower Falls district of West Belfast, a sniper fired 2 shots, hitting Private Bryan in the chest. He died in hospital an hour later. He had joined the Glosters as a boy soldier and his brother was also serving with the Glosters. From Bristol. Aged 18.
Pte Brennan was also shot by a sniper, but recovered from his wound.
1st February 1972 24078868 Lance-Corporal Ian Roy Bramley, while on duty at an observation post at the junction of Hastings Street and Divis Street, West Belfast, he was shot in the chest by a sniper and died in hospital 45 minutes later. He was from Winchcombe, near Cheltenham. Aged 25. Married, 2 children.
"B" Company
Patrolled the Clonard area. On arrival they were given a list of 9 names of the most wanted terrorists operating in their area. They captured 5 and the other 4 were killed in a premature bomb explosion.
"D" Company
Based in Queen's University.
16th December 1971, 3am. 24203302 Private Anthony R. Aspinwall was mortally wounded by an IRA sniper in a street off the Falls Road, West Belfast. He was shot in the stomach, but still managed to fire 6 shots at the sniper's position. When an ambulance arrived to help it was fired upon by the terrorists. Private Aspinwall had been in Ulster for 1 week. He died in the Royal Victoria Hospital with his wife, father, sister and brother at his bedside. Soon after, the Regiment changed the shiny cap badges to a darkened one. He was from Somerset, aged 22. Married, 3 children.
Also wounded during the tour: Cpls Macey, Curtin, Ptes Jordon, Madge and Makuch.
The Company arrested 57 suspects, located 15 pistols, 2 armalite rifles, 1 sporting rifle, 55lbs of gelignite and 2444 rounds of assorted ammunition.
Support Company
Based in the linen mill near the Royal Victoria Hospital.