THE GLOUCESTERSHIRE REGIMENT 1939-1945
1st Battalion
(Regular Battalion. 28th Regiment)
Served in Burma and India.
Died: 9 officers and 187 men died.
2nd Battalion (Regular Battalion. 61st Regiment)
Served in France and Belgium 1939-40, Western Europe 1944-45.
Died: 19 officers and 269 men.
4th (City of Bristol) Battalion (Territorials)
Converted into 66th Searchlight Regiment, Royal Artillery, in November 1938.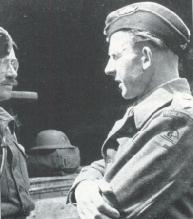 The Battalion kept the Gloster badges (note front and back badge)


5th Battalion (Territorials)
Served in France and Belgium 1939-40.
Died: 2 officers and 83 men.
Converted to 43rd Reconnaisance Regiment, November 1941.
Served in Western Europe, 1944-46.
Died: 9 officers and 234 men.
Reformed as 5th Glosters, March 1947.
6th Battalion (Territorials)
Converted to 44th Royal Tank Regiment, November 1938.
Served in North Africa, Sicily and Italy.
7th Battalion (Territorials 1939-46)
Died: 1 officer and 4 men.
1939 - Formed as a second line battalion of the 5th T.A. Battalion, Gloucestershire Regiment, with HQ at Stroud. Part of the 61st Division. 25th August renamed the 7th Battalion, Gloucesterhsire Regiment and assigned to home security duties guarding important sights in Gloucester, Cheltenham, Quedgeley, and Cirencester.
1940 - June, the Battalion moved to Belfast, Northern Ireland on home defence service.
1943 - February, Battalion moved to Essex and later to Buckinghamshire to start training for overseas service.
1944 - January, moved to Broadstairs and then Dover. 61st Division informed that it was not to go overseas after all. Battalion reduced to a training unit. In August the Battalion moved to Overstrand, near Cromer, and transferred to the 47th Division.
1946 - 28th February, Battalion placed into suspended animation at Crowborough, Sussex.
8th Battalion (Home Service Battalion)
Died: 1 officer and 20 men.
1936 - The 5th and 6th Battalions, Gloucestershire Regiment formed National Defence Companies to provide guards for important sights during war time.
1939 - 3 NDC mobilized and assumed their war time stations.
'A' Coy. went to Worcestershire.
'B' Coy. to Gloucester Docks and RAF Station at South Cerney.
'C' Coy. to RAF Stations at Filton and Pucklechurch.
1940 - 1st January, the 8th Battalion was formed from NDC of the 5th & 6th Glosters and 7th Worcesters.
HQ at Gloucester. Served on home security duties, including providing a special company to guard Queen Mary at Badminton House; commanded by Major W.D.M. Attwood, from October 1940 to June 1942, while Queen Mary was in residence.
"They were delighted when Her Majesty strolled informally in the company lines, wearing a Back Badge."

Queen Mary wearing the front (on her coat) and back badge.
1941 - December, Battalion redesignated as the 30th Battalion, The Gloucestershire Regiment.
1942 - In autumn, the Battalion was disbanded. The threat of invasion had lessened and the RAF took over defence of their own airfields.
"The Battalion had throughout a hard and uncomfortable existence: the men, mostly elderly and unfit, were usually badly housed and considerably overwhelmed with guard duties." (Back Badge 1946)
9th Battalion (Garrison Battalion)
Died:10 men.
1940 - Battalion formed at Llanelly, South Wales in May. Home defence duties, guarding important sights in South Wales.
After a period of training near Carlisle, moved to Northen Ireland in October. Local defence duties and guarding RAF airfields around Belfast and Knock.
1943 - June, the Battalion disbanded.
10th Battalion (Service Battalion 1904-45)
Served in India and Burma.
Converted to 159th Regiment, Royal Armoured Corps, July 1942.
Reverted to 10th Glosters, April 1943.
Died: 13 officers and 122 men.
11th Battalion (Service Battalion)
Died: 4 men.
1940 - June, the 50th Holding Battalion was formed at Ludlow and Leominster. They held and trained men for service with active battalions. In October the Battalion moved to Shorncliffe and were renamed the 11th Battalion The Gloucestershire Regiment.
Guard duties at Chatham.
1941 - February, moved to the Yorkshire Division and on coast defence duties at Hornsea.
1942 - 28th February, converted to the 118th Light A.A. Regiment, R.A.
Went to Chepstow for gunner training with the Bofors AA gun.
Stationed with 55th AA Brigade along the south coast between Cornwall and Hampshire.
1943 - February, sailed for India. Stationed in Bangalore and then moved to Assam.
June, protecting US airfields and railways taking supplies to China. Regimental HQ was at Tezpur.
October, the Regiment was disbanded.
70th Battalion (Young Soldiers Battalion)
Died: 1 officer and 10 men.
1940 - Formed at Reservoir Camp, Gloucester, in September from Young Soldiers' Companies of 8th Glosters.
In October moved to the Bristol area with HQ at Ashton Court, carried out guard duties at airfields and at Whitchurch, Filton and Avonmouth.
1941 - Early April Battalion HQ moved to Burnham-on-Sea and companies detached to guard important sights in Somersetshire. In June HQ moved to Glastonbury, guard duties at airfields, then at Cheddar and Ilfracombe.
1942 - October, Battalion disbanded.
Regimental Depot
Moved from Horfield Barracks, Bristol to Gloucester in 1940 to form No. 15 Infantry Training Centre. This unit moved to Colchester in 1942, but a Depot Party remained at Reservoir Camp, Gloucester through the war.
Died: 1 officer and 15 men.
No. 15 Infantry Training Centre
1940 - Formed at Reservoir Camp, Gloucester by the Gloucester's Depot, along with the Somerset L.I. and Wiltshire Regiment Depots.
1942 - September, the US Army began to arrive and take over accommodation in the south-west. The I.T.C. moved to Hyderabad Barracks, Colchester.
1946 - October, No. 15 I.T.C. moved to Bulford Camp, Salisbury Plain and became part of the new Group I.T.C.

No. 15 Infantry Holding Battalion
1944 - November, Holding Battalions were formed to take in and train fit men who had been repatriated from the Far East, wounded personel from 21st Army Group etc. No. 15 Infantry Holding Battalion was formed near Clacton in Essex for men from the Gloucestershire and Wiltshire Regiments.
1945 - No. 15 IHB moved to Felixstowe. July, moved to Reservoir Camp, Gloucester.
1946 - May, No. 15 IHB was disbanded. The companies were sent to the new No. 2 Holding Battalion stationed at Aldershot. October, the Gloucester companies were sent to Reservoir Camp to form the new No. 28 P.T.C. for Gloucestershire.
TOTALS
9 Battalions.
20 different Battle Honours.