OFFICERS DIED : SOUTH AFRICA 1899 - 1902
TABOR - Lieutenant J. B. - 11th Co. 3rd Batt. Imperial Yeomanry
Killed in action at Middleport Farm, Calvinia. 6th February 1902.
TAIT - Lieutenant Frederick Guthrie - 2nd Royal Highlanders (Black Watch)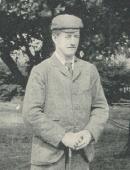 Killed in action at Koodoosberg. 7th February 1900. Aged 30. Son of F.G. Tait, MA, of Edinburgh University. Born January 1870. Champion Amateur golfer 1896 and 1898.
TAPLIN - Lieutenant H. E. B. - Cape Mounted Rifles
Killed in action at Wepener. 9th-18th April 1900.
TARBUTT - Lieutenant Charles Arthur Percy - South African Light Horse
Died of typhoid fever at Pretoria. 13th February 1900. Aged 26. Son of Percy Tarbutt, of the Consolidated Gold Fields of South Africa.
Memorial at Bedford School Chapel, Bedford - "Charles Arthur Percy Tarbutt 1887-1891. Lieut. SA Light Horse. Buried Pretoria Feb. 13th 1900 aged 27."
TAUNTON - Major Charles Edmund - Natal Carbiniers
Killed in action near Ladysmith. 3rd November 1899. A Fellow of the Royal Colonial Institute and a director of several gold mining companies in South Africa.
TAYLOR - Captain Herbert Wodehouse - 'M' Battery, Royal Horse Artillery
Killed in action at Geluk. 13th October 1900. Aged 32. Born June 1868.
TAYLOR - Lieutenant John - King's Royal Rifle Corps
Killed in action at Talana Hill. 20th October 1899. Aged 26. Born April 1873.
THACKERAY - Lieutenant-Colonel Thomas Martin Gerard - 1st Royal Inniskilling Fusiliers


Killed in action on the Upper Tugela. 23rd-24th February 1900. Aged 50. Born June 1849.
Memorial at Inniskilling Hill - "Near this spot were killed or mortally wounded on Feb. 23rd-24th 1900, Lieut-Col. T.M.G. Thackeray, commanding, Major F.A. Sanders, 2nd-in-command, Lieut. W.O. Stuart, and 65 NCO and men of the 27th Inniskillings whilst advancing to the relief of Ladysmith."
THEOBALD - Lieutenant Stanley Reay - 9th Lancers
Wounded 9th August 1901. Died at Wolvevlei on the 12th August. Aged 23. Educated at Cheltenham College. Son of Colonel Percy Theobald, of Cheltenham. Born September 1877.
Memorial at Cheltenham, Gloucestershire - "This memorial is erected in memory of those Cheltenham men, who, either as regulars, or volunteers, died in their country's service, during the South African war, and on the side panels hereof are recorded the names of those Cheltenham men who volunteered, and served in the war..... Lts. S.R. Theobald (9th. Lcrs.) ... Unveiled by Lt. Gen. Sir Ian Hamilton, K.C.B. 17th. July 1907. W. Nash Skillicorne, Mayor."
THOMAS - Lieutenant Arthur H. - Ceylon Mounted Infantry
Died of enteric at Bultfontein. 6th October 1900. A Fellow of the Royal Colonial Institute. According to several other sources, Lieut. Thomas was killed "shot through the heart" while serving as Assistant Commissioner, Bultfontein. (My thanks to Randolph Jones for sources and memorial information).
Memorial in The Military Headquarters, Kandy - "In memoriam - Lieut. Arthur A. Thomas [sic], W. Max Kelly, C. Campion, Q. M. Sgt. Cheyne, A. S. Hopper, K. Hamilton, Claude C. Bell, N. W. Smellie. This Memorial was designed by Mrs. Thomas, wife of Edward Hector Le Marchant Thomas, a brother of Lieutenant Thomas."
THOMAS - Captain Berkeley Hardinge - 2nd Worcester Regt.
Wounded at Rensburg, 12th February 1900. Died 20th February at Portland Hospital, Rondebosch. Aged 35. Born January 1865.
Memorial at Worcester Hill, Yardley Farm, South Africa - "In Memory of the following Officers, N.C.O's and Men of the 2nd Batt. (36th) Worcestershire Regiment who were killed in action or died of wounds, received in action near this spot while doing their duty defending this position on 12th February 1900 ..... Captain B.H. Thomas ..."
THOMAS - Lieutenant Charles Latimer - 2nd West India Regt.
Died of enteric at Kroonstad. 9th January 1901. Aged 25. Born September 1875. Served Tirah 1897 (medal and 2 bars).
THOMPSON-PEGGE - 2nd Lieutenant John Francis - 10th Co. Eastern Div., Royal Garrison Artillery
Killed by lightning at Dundee. 11th December 1900. Aged 22. Born April 1878.
THOMSON - Captain William Gordon - 1st Suffolk Regt.
Died at Pretoria. 9th June 1900. Aged 34. Born October 1865.
THORNTON - Lieutenant Archer Henry - Brabant's Horse
Killed in action at Wepener. 12th April 1900. Aged 35. Born in Manchester in 1865. Served in Rhodesia 1893. Queen Victoria requested a photograph of him from his family.
THORNTON - Captain Edward Evelyn Danvers - Army Service Corps
Died of enteric at Wynberg. 10th March 1900. Aged 32. Born July 1867. Served Ashanti 1895 (star).
THOROLD - Lieut-Colonel Charles Cecil Hayford - 1st Royal Welsh Fusiliers
Killed in action on the Upper Tugela. 24th February 1900. Aged 47. Born December 1852.
THOROLD - Captain Frederick Temple - 2nd Yorkshire Light Infantry
Killed in action at Brakenlaagte. 31st October 1901. Aged 28. Born March 1873. Served Tirah 1897 (medal and 2 bars).
THOROLD - Captain Henry Cecil - Leicestershire Regt. (att. 3rd Railway Pioneer Regt.)
Killed in action near Rietfontein. 18th February 1902. Aged 30. Son of Sir John and Henrietta Thorold, of Syston Park, Grantham. Born November 1871.
THRESHER - Lieutenant Edward Burnaby - 1st Durham Light Infantry
Died of enteric at Standerton. 9th April 1901. Aged 25. Son of Rev. J.H. Thresher. Born April 1876.
THURBURN - Captain Walter Levinge - 2nd Royal Fusiliers
Killed in operations on the Tugela, near Colenso. 19th February 1900. Aged 29. Son of Charles Thurburn, of Alexandria, Egypt. Born June 1870. Buried on Bloys Farm, Llangwane Hill, near where he fell.
THURSBY - Major Arthur Edmund - 5th Royal Warwickshire Regt.
Died of enteric at Suntherland, Cape Colony. 6th March 1902. Aged 41. Son of Arthur Harvey and Mary Thursby, of Culverlands, Berkshire. Born January 1861. Husband of Maud Cartwright (3 children).
TILL - Lieutenant Francis Edward - 6th Dragoon Guards (Carabiniers)
Killed in action at Basfontein. 14th August 1901. Aged 26. Son of Edward Till, of Weybridge, Surrey. Born July 1875.
TIMM - Lieutenant A. B. - Nesbitt's Horse
Died at Steynsburg. 20th August 1901.
TINDAL-ATKINSON - Navigating Lieutenant Paul Weston - Royal Navy
HMS 'Partridge'. Died of dysentry at Addington Hospital, Durban. 11th July 1900. Aged 33. Son of Rev. W.R. Tindal-Atkinson, of Burgess Hill, Sussex. Born 1877. Had served as press censor during the relief of Mafeking.
TINDAL - Captain Arthur Henry Uhthoff - Welsh Regt.
Died of wounds at Kheis. 29th May 1900. Aged 42. Born March 1858. Served in Sierra Leone 1898. Buried at Prieska.
TINSLIN - Veterinary-Lieutenant Robert - Johannesburg Mounted Rifles
Died of dysentry at Standerton. 7th January 1902.
TOD - Lieutenant Noel Moir - 1st Cameronians
Killed in action at Wagon Hill, Ladysmith. 6th January 1900. Aged 24. Son of John Henry Tod. Born December 1875. His brother, Lieutenant J.E. Tod, 2nd Punjab Cavalry, died in 1892.
TOLL - Surgeon-Captain J. T. - 1st South Australia Mounted Rifles Contingent
Died of enteric at sea, on board S.S. Australasia. A Fellow of the Royal Colonial Institute.
TREATT - Lieutenant Graham Boeller Dalhousie - New South Wales Mounted Infantry
Died of enteric at Capetown. 14th May 1901. Aged 24. Son of F. Burford Treatt, of Singleton, New South Wales.
TREDINNICK - Lieutenant Ernest Davey - South African Constabulary
Wounded at Buffelsdoom, 30th May 1900. Died the following day. Son of Dr. Tredinnick, of Craven Arms, Salop. Went to South Africa with the Shropshire Imperial Yeomanry.
Memorial at St. John the Baptist church, Stokesay, Shropshire - "To the Glory of God and sacred to the memory of Lieut Ernest Davey Tredinnick who served his country in South Africa from January 1900 to June 1st 1902 first as a trooper in the Shropshire Imp. Yeomanry then Sergeant and 1st Orderly to General Lord Methuen afterwards was gazetted Lieutenant in the 103 Imp. Yeomanry also in the South African Constabulary. He died the day after peace was declared of wounds received in action at Bufflesdoorn. This tablet and window were erected by his many friends."
TREMEARNE - 2nd Lieutenant Richard Hastings - 5th Warwickshire Regt.
Died of enteric at Carnarvon, Cape Colony. 14th April 1902. Aged 22. Son of Shirley Tremearne, of Calcutta. Born July 1879 in India. QSA and 2 bars. His family were originally from Cornwall.
TROW - Captain William H. - Volunteer Co., Shropshire Light Infantry
Died of enteric at Kroonstad. 26th May 1900. From Worcestershire.
TRYON - 2nd Lieutenant Guy Thomas Lewes - 2nd Grenadier Guards
Died of enteric at Harrismith. 24th August 1901. Aged 22. Son of Lieutenant-Colonel Thomas Tryon, of Bulwick.
Memorial in Northampton Cathedral - "To the Glory of God and in memory of Brave Men, inhabitants of this County and neighbourhood, who gave their lives for their Sovereign and Country during the War in South Africa 1899-1902, the Western Window of this Cathedral was filled with stained glass, AD 1903......... Grenadier Guards, 2nd Lieut. G.T.L. Tryon......"
TUBMAN - Captain Robert George - 7th New Zealand Mounted Infantry
Died at Heilbron. 11th April 1902.
TUCKER - Captain Sydney Norval, D.S.O. - South African Constabulary
Died of enteric. 6th January 1902. (ex-South African Light Horse.) DSO 1900.
TUPMAN - Captain Kenneth Lyon - 1st King's Liverpool Regt.
Died at Ladysmith. 4th February 1900. Aged 31. Born November 1869.
TURNER - Lieutenant George - 35th Co., Army Service Corps
Died of enteric at Kroonstad. 16th April 1902.
TURNER - Captain Neville George Harry - 2nd West Riding Regt.
Died of enteric at Wynberg. 25th May 1900. Aged 35. Born December 1864.
TURNER - Captain Henry Scott - Royal Highlanders
Killed in action at Carter's Ridge, Kimberley. 28th November 1899. Aged 32. Son of Major Scott Turner (69th Foot). Born May 1867. Served Matabeleland 1893-4 and 1896 (MID).
TURPIN - Lieutenant Cliff - Marshall's Horse
Killed in action at Dorignspoort. 24th March 1901.
TWIGG - Lieutenant James Stuart - Royal Army Medical Corps
Killed in action near Clanwilliam. 22nd December 1901. Aged 27. Born October 1874.
TWISLETON - Lieutenant T. H. G. - 7th New Zealand Mounted Infantry
Died of pneumonia at Losberg. 26th August 1901.
TWYFORD - Major Ernest Henry Samuel, D.S.O. - 1st Royal Scots
Killed in action at Badfontein. 13th April 1901. Aged 37. Born October 1863. Served China Lushai 1889 (medal and bar). DSO 1901.
TYLER - Lieutenant Arthur John - West Riding Regt.
Killed in action north of Mafeking. 14th March 1900. Aged 28. Born June 1871.
TYNDALL STAINES - 2nd Lieutenant Bertram James - 1st East Lancashire Regt.
Died of dysentry at Heilbron. 1st December 1901.
---