OFFICERS DIED : SOUTH AFRICA 1899 - 1902
UMPHELBY - Lieutenant-Colonel Charles Edward Ernest - Australian Artillery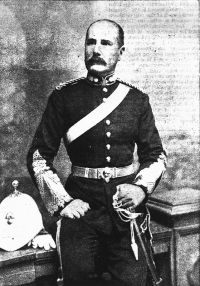 Died of wounds at Driefontein 12th March 1900. Born at Richmond, Victoria on 13th June 1853, son of Charles Ernest Umphelby of Toorak.
Original grave marker - "In memory of Colonel Umphelby, of the Victorian Artillery, Victoria, Australia, Wounded on March 10, 1900 and died March 12, 1900. In sad remembrance ? NSW Medical Corps."
Memorial at field hospital cemetery near Driefontein - "To Lt Col C.E.E. Umphelby of Victorian Regt., Royal Australian Artillery. Died of wounds on 12 March, 1900 at Driefontein."
UREY - Lieutenant J. - 2nd Batt. Imperial Yeomanry
Died at Heilbron 21st February 1902.
USSHER - Captain Edward, D.S.O. - 2nd Dragoons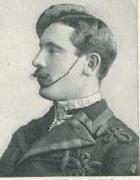 Wounded at Klippan, 18th February 1902. Died at Nigel Mines on the 20th. Aged 32. Born 26 Nov. 1869, son of John Ussher, of Budworth, Cheshire. (QSA, KSA, MID, DSO). Married Selina Bowen, 1897.
---
VALLENTIN - Major John Maximilian - Somersetshire Light Infantry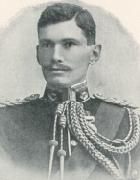 Killed in action at Onverwacht, Ermelo District 4th January 1902. Aged 36.
VANDELEUR - Lieutenant-Colonel Cecil Foster Seymour, D.S.O. - Scots Guards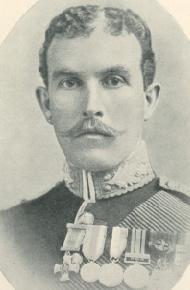 Killed in an ambush on a train near Isaterval 31st August 1901. Aged 32. Born 11th July 1869. Gazetted to Scots Guards 1892. Served in Uganda 1894-6 (medal, MID). Nandi Expedition 1896 (MID, DSO - "In recognition of services during recent operations against slave-trading Arabs in the Uganda Protectorate.") Served in Niger 1897 (Medal and clasp, MID). Attached Egyptian Army 1897-9. Served Nile Expedition 1898 (Egyptian Medal 2 clasps, 4th Class Medjidie, MID, slightly wounded).
VAUGHAN - Lieutenant Esmae Allen Peers - 2nd Royal Lancaster Regt.
Wounded on the Tugela, 27th February 1900. Died at Pietermaritzburg 7th March 1900. Aged 22.
VEITCH - Major Quinten R. - Cape Volunteer Medical Staff Corps
Died of heart disease at Cape Town 2nd February 1902.
VENNING - Lieutenant Gordon Ralph, D.S.O. - 4th Battery, Royal Field Artillery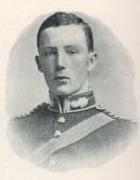 Killed in action near Tweebosch 7th March 1902. Aged 21. Born 3rd June 1880, son of Alfred Venning, of Straits Settlements.
VERNON - Captain Ronald James - King's Royal Rifle Corps

Killed in action at Game Tree in a sortie from Mafeking 26th December 1899. Aged 33.
VERSCHOYLE - Captain Edward Greville - 2nd Grenadier Guards
Died of Wounds at Thaba N'chu 5th May 1900. Aged 33.
VERTUE - Captain Naunton Henry - East Kent Regt.
Killed in action at Spion Kop 24th January 1900. Aged 37.
VON SCHADE - Lieutenant F.C. - Commander-in-Chief's Bodyguard
Died of wounds January 1901.
---