INDIA 1933-36
A series of photographs taken in India 1933 - 1936 of the 1st Battalion, Glosters. Each has a note on back.
"Dear mother, taken on the way from the station"

"on march from Wellington.station to Barracks.
It is just like England here, so unlike Madras."



"India 1936, love Will"


"this is band stopped playing, we had not seen them since
they.came up here in April, there were many greetings."



"this is us marching into Barracks."...


"B company marching into barracks 3 hours after us,.the band had been busy
for they played 4 lots of the Kings.own Royal Regt out, and 2 lots of Glosters in."
MILITARY FUNERAL

"Placing coffin in ambulance at Hospital,
troops present arms."


"on the way from barracks to cemetary (D company)"


."ambulance and bearers of D company"

.
"band and drums (drums of the Kings Regt)
playing the.Death march. note drums drapped in black"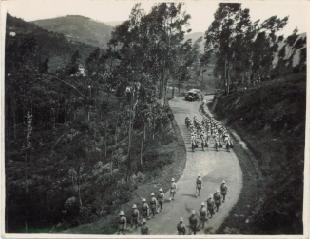 "Pte Mitchel of Tewksbury Road Cheltenham fell over a cliff here.
250 ft every bone was broken even in his.fingers. This is the party leaving barracks, firing party in front."


"Lowering the late Private Mitchell into the grave. note firing party
with heads bowed and rifles down"


."the firing party firing the salute after the Buglers.sounded
'Last Post' and 'Reveille' ...Will.".



"a few signallers on training, love Will" 1934


"D Coy. 1933 taken after dismounting Treasury Guard.
Christmas Day. Mhow Central India. × = ME

"I see no ships, roll on when I do"

"Mhow 1933, love Will"


"Bert Bryan taken at Mhow 1933"

"Native mule leaders attached to
'A' MG) coy. Mhow 1933."

"our native cooks at camp (Kelid)"

"Riots Madras 1936"

"Fare-well Parade, Mhow, Central India 4/9/36"

"Dear mother, this was just before we dismissed"

.
"Depot, Horfield Brk Bristol 1930".


"this is police and 5 prisoners in close arrest and awaiting Court Martial
Prisoners without rifles. with arm bands."



"Wedding of Captain Vicary, Mhow."


"3 Gloster Boys out on the tramp in Mhow's beautiful country.
the one on your right is a fellow from.Leckhampton named Hailey."
---