TIBET 1904
Captain Hector BETHUNE - (32nd Pioneers or 8th Gurkhas) - killed at Karola 6 May 1904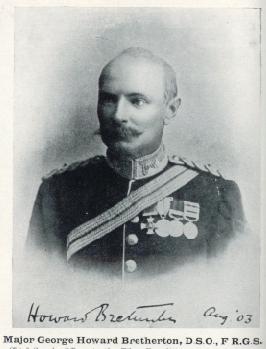 Major George Howard BRETHERTON, D.S.O. - Chief Supply & Transport Officer - drowned when a his raft sank while crossing Tsanpo River at Chaksam 24 July 1904. Born 6 March 1860 in Gloucester, son of Edward and Georgiana Bretherton. served Miranzai expedition 1891 (medal & clasp), Chitral 1895 (medal & clasp, DSO), NW Frontier India 1897 and Tirah (medal 2 clasps).
Captain John Charles Pulleine CRASTER - 46th Punjabis - killed at Tsechen 28th June 1904
Commissioned with the Northumberland Fusiliers before transferring to the Indian Army.

Lieutenant GARSTIN - Royal Engineers - killed at Palla 26th May 1904
Lieutenant G.P. GURDON - 32nd Pioneers - killed at the capture of Jong, Gyantse 6th July 1904
An explosion caused a lump of stone from a wall to strike him in the head, killing him.

---