---
THE COLOURS of the 28th FOOT
The Colours of a British Regiment represent the spirit, traditions and continuity of that Regiment. British military history is full of tales of men laying down their lives to protect or save the Colours in battle. Bullet holes and battle damage was never repaired, borne as a mark of distinction. When new Colours were presented to a Regiment the old ones were 'laid up' often in a Regimental chapel or church. The two Colours are: the Queen's Colour (The Union Flag bearing the Battalion number and selected Battle Honours) and the Regimental Colour (a unique central device - in the Glosters' case a sphinx to commemorate their service in the Egyptian campaign of 1801, and more battle honours).
The Battle Honours of the Gloucestershire Regiment (1694 - 1994).
Those in red were entitled to be borne on the Regimental Colours. The Regiment had more battle honours than any other County Regiment : [Image] Egypt. Ramillies. Louisberg. Guadaloupe 1759. Quebec 1759. Martinique 1762. Havannah. St Lucia 1778. Maida. Corunna. Talavera. Busaco. Barrosa. Albuhera. Salamanca. Vittoria. Pyrenees. Nivelle. Nive. Orthes. Toulouse. Peninsula. Waterloo. Chillianwallah. Goojerat. Punjaub. Alma. Inkerman. Sevastopol. Delhi 1857. Defence of Ladysmith. Relief of Kimberley. Paardeberg. South Africa 1899-1902. Mons. Retreat from Mons. Marne 1914. Aisne 1914. '18. Ypres 1914. '15. '17. Langemarck 1914. '17. Gheluvelt. Nonne Bosschen. Givenchy 1914. Gravenstafel. St Julien. Frezenberg. Bellewaarde. Aubers. Loos. Somme 1916. '18. Albert 1916. '18. Bazentin. Delville Wood. Poziers. Guillemont. Flers-Courcelette. Morval. Ancre Heights. Ancre 1916. Arras 1917. '18. Vimy 1917. Scarpe 1917. Messines 1917. '18. Pilckem. Menin Road. Polygon Wood. Broodseinde. Poelcappelle. Passchendaele. Cambrai 1917. '18. St Quentin. Bapaume 1918. Rosieres. Avre. Lys. Estaires. Hazebrouck. Bailleul. Kemmel. Bethune. Drocourt Queant. Hindenburg Line. Epehy. Canal du Nord. St Quentin Canal. Beaurevoir. Selle. Valenciennes. Sambre. France and Flanders 1914-18. Piave. Vittorio Veneto. Italy 1917-18. Struma. Doiran 1917. Macedonia 1915-18. Suvla. Sari Bair. Scimitar Hill. Galipoli 1915-16. Egypt 1916. Tigris 1916. Kut al Amara 1917. Baghdad. Mesopotamia 1916-18. Persia 1918. Defence of Escaut. St Omer-La-Bassee. Wormhoudt. Cassel. Villers Bocage. Mont Pincon. Falaise. Risle Crossing. Le Havre. Zeten. North-West Europe 1940, '44, '45. Taukyan. Paungde. Monywa 1942. North Arakan. Mayu Tunnels. Pinwe. Shweli. Myitson. Burma 1942, '44, '45. Hill 327. Imjin. Korea 1950-51.
A History of The Colours of the 28th Regiment
1694 - No records exist of the first Colours presented to the Regiment
1707 - A set of Colours was lost at Almanza 14th April 1707. They were taken by the Spanish and kept in the church at Atocha, near Madrid. When the Allied Army left Madrid in 1710 the Colours were recovered.

drawing: 28th's Regimental Colour. c.1758
1768 - New set of Colours presented.
1784 - Another set of Colours presented.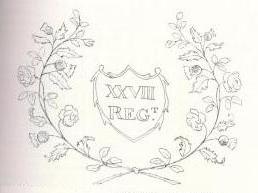 drawing: centre of the 28th's King's Colour, c. 1795.
1802 - A set of Colours, presented by Colonel Robert Prescott (Colonel 28th Foot, 1789-1815), was retired when the Sphinx with Egypt was added. In 1886 they were found in a pawn shop in York! They were purchased by the Regiment and placed in the Officers' Mess at the Bristol Depot. The new Colours were presented by Colonel Prescott.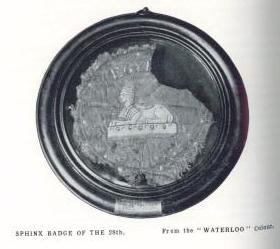 At Waterloo the heavy silk Egyptian honour fell from the tattered Regimental Colour and was picked up by Captain Charles Cadell. It now hangs in the Regimental Museum.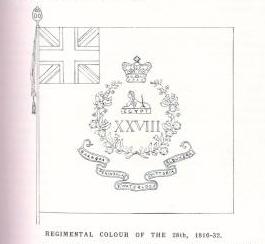 1816-1832 - On 18th June 1816 a new set of Colours was given by Colonel Sir Edward Paget at Forton Barracks, Gosport. The Colours were retired in 1832 and returned to Sir Paget. On his death the Colours were placed at the head of his coffin in the Royal Chelsea Hospital. They then passed to the Royal Military College chapel.
1832-1850 - Given by Sir Edward Paget and presented at Dublin Castle on 19th March 1832. This set was retired in 1850 and presented to the RMC Chapel in 1877. A 'Vittoria' battle honour scroll from these colours was presented to Capt. Thomas Wilson (severely wounded at the battle) and he later donated it to the Portsmouth Museum. The 'Waterloo' battle honour scroll was given to Major James Crummer, and it was presented (along with his medals) to the National Art Gallery of New South Wales, Sydney in 1907.
1850-1868 - Presented at Portsmouth on 18th June 1850. Retired in December 1868 and placed in Gloucester Cathedral. The account book of Messrs. Hobson & Sons Ltd, London (flag-makers) states: 22nd January 1850. 1 pr Colours, 28th Foot. 1 pr poles & gilt heads - 22 pounds 18 0.
1868 -

Presented 17th December 1868 on the Almeda, Gibraltar.
"Programme of the Presentation of Colours to the 28th Regiment on Thursday, 17th Dec. 1868.
Corps formed in Review Order to receive His Excellency the Lieutenant-General commanding
on the Almeda at 3.30 pm.
- ................................- - 74th . . . 28th . . . 13th . . . Bands 1/13th, 71st, 83rd
R.E. . .. . . .. . . . . 71st
R.A. . .. . . .. . . . . 83rd
General Salute.
His Excellency will ride down the ranks.
Trooping of Old Colours.
The 28th Regiment will form four deep three sides of a square, with flanks thrown back.
The other corps closing in by marching to their respective fronts.
The Drums piled in centre and the New Colours uncased placed against them.
When all is ready, the spectators, previously kept back by a line of sentries, will on an order
given by the Asst. Adjutant-General, be allowed to close up -
Ladies in front, mounted officers and others in rear.
The consecration will then proceed.
Presentation by the Honourable Lady Airey.
Address.
28th Regiment will Reform Line.
General Salute to the Colours.
28th Regiment will form column an the whole of the Troops
will march past in Quick Time in open column of companies, the 28th leading."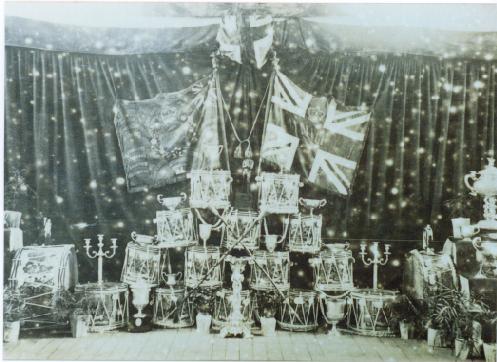 Colours, Drums and Regimental Silver (Victorian)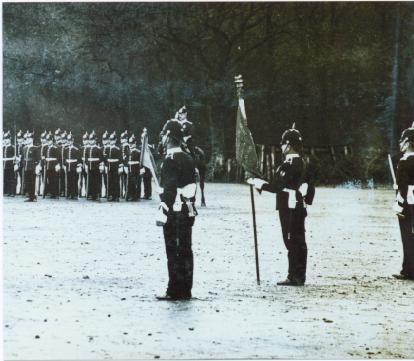 On Parade 1914 (note the back badge)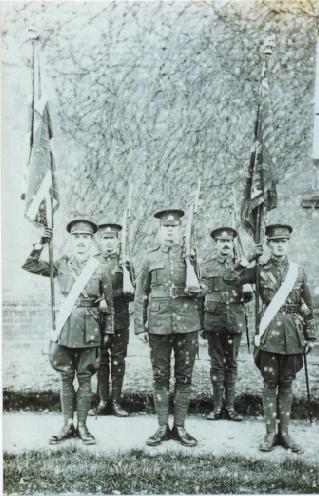 On Parade 1920
1952-1994 -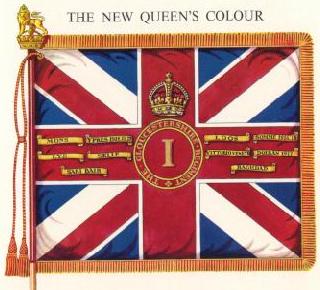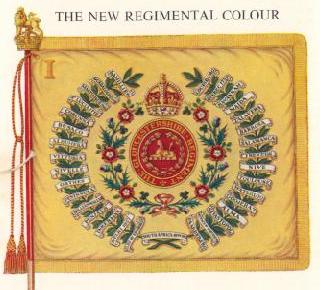 The Colours below were presented in 1952, the Regimental Colour bears a blue silk streamer with the words "Solma-Ri", this is the Unit emblem of the United States Presidential Citation, a unique award to a British Regiment. (awarded for the battle of the Imjin River, Korea in 1951).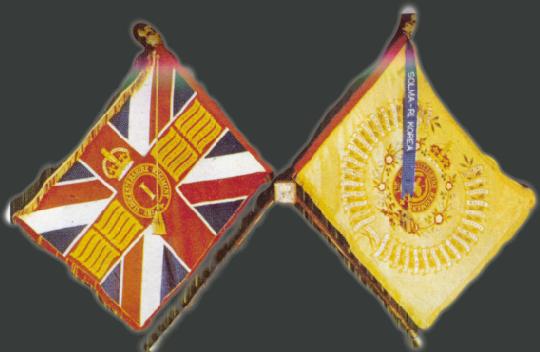 ---